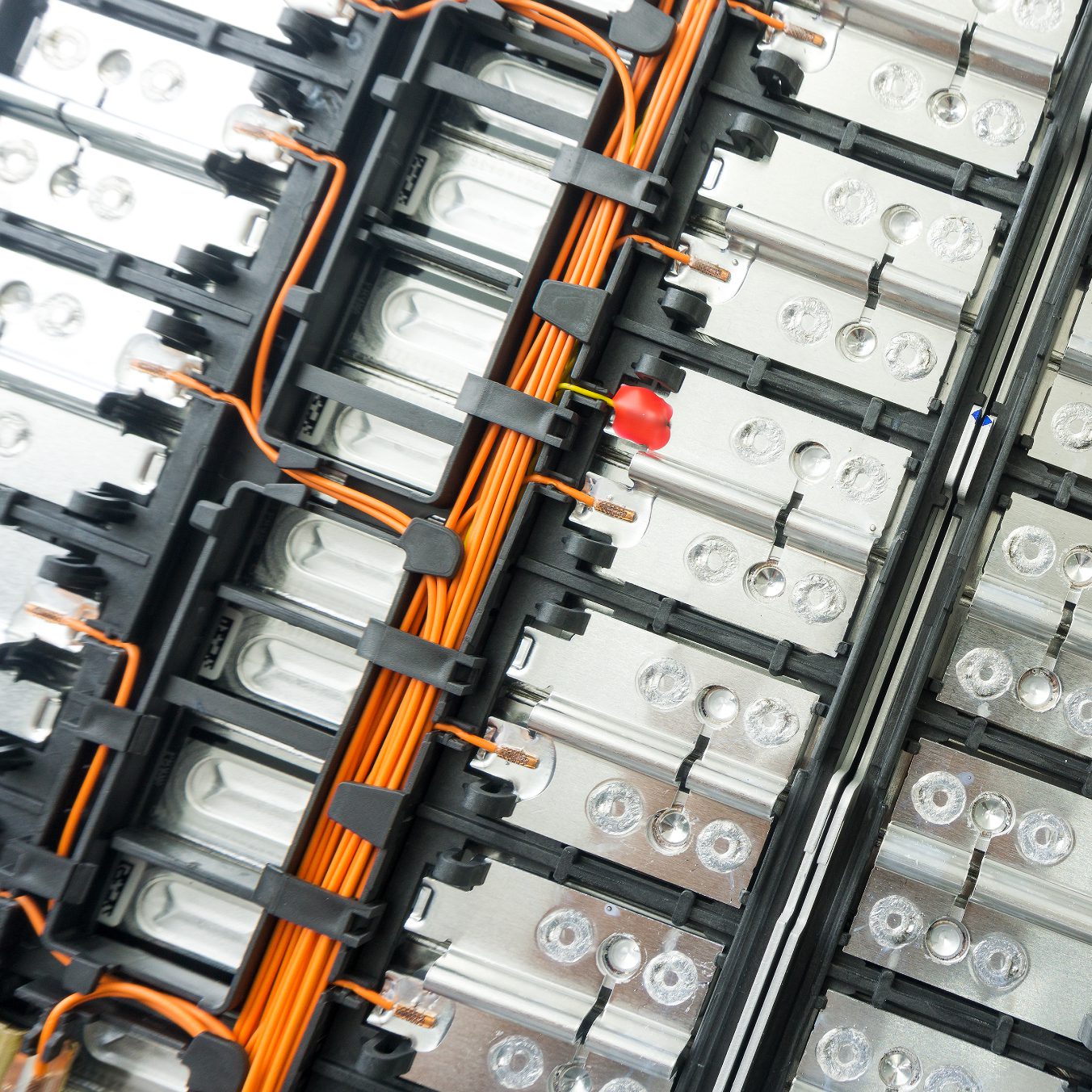 Lithium Services
Driving lithium-ion and battery technologies into the future.
In supporting future energy and material lifecycle needs for emerging battery systems, Ecobat Solutions has been highly active in the development of advanced technologies and processes for recycling and resource recovery for Lithium-ion and other battery chemistries. We are the only European provider of fully integrated Stage 1-3 lithium battery recycling services and management services for Stage 4.
In addition, our patented technologies allow for the development of new ways to treat "End of Life" (EOL) conditions to manage critical materials for our energy needs. Ecobat provides a range of Advanced EV service solutions to some of the leading OEMs in the world.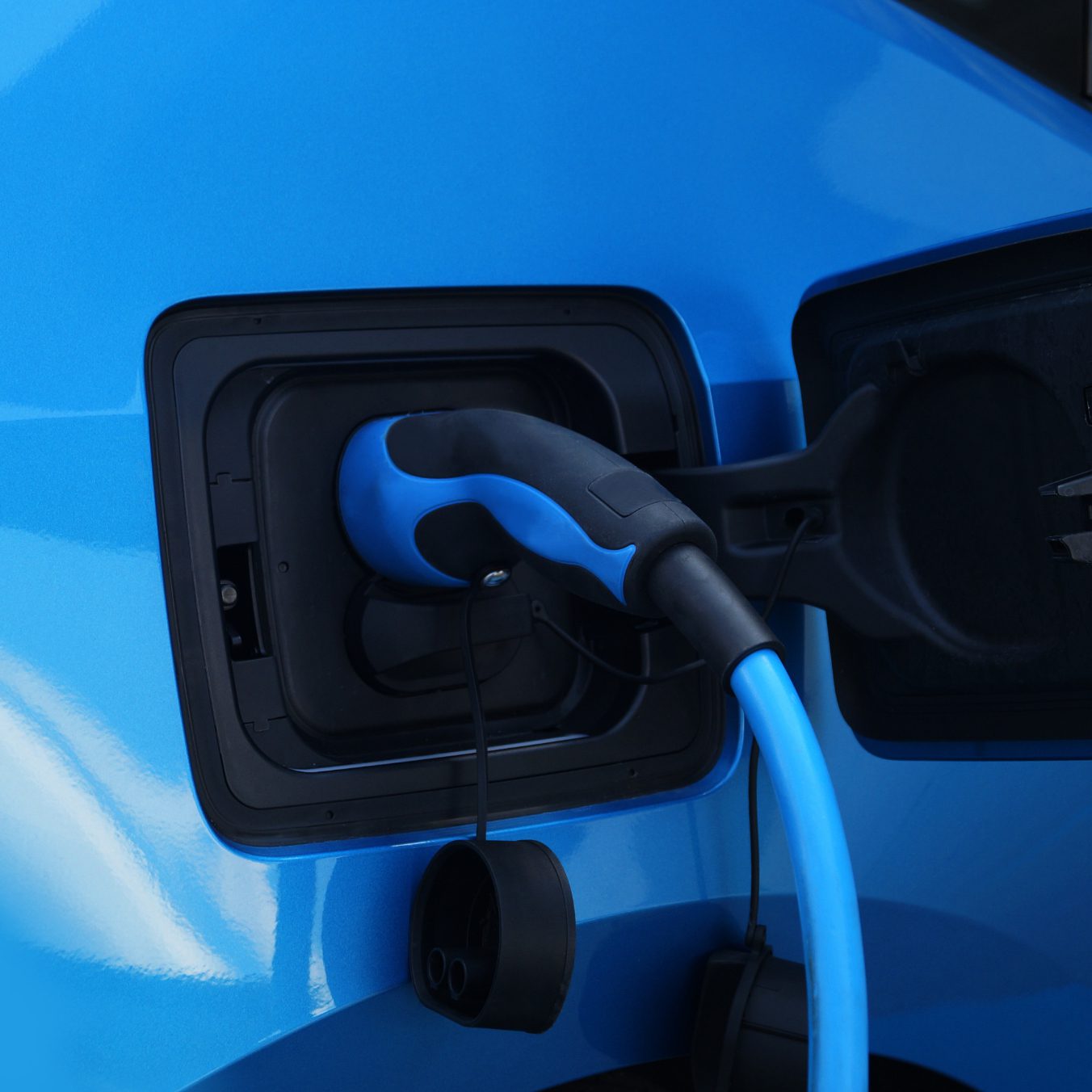 Setting a new standard for lithium-ion battery processing.
As part of our ongoing quest to maximize battery usage and efficiency while protecting the environment and ensuring precious and rare natural commodities are not wasted, Ecobat Solutions has established an Advanced Diagnostics and Engineering Center in the UK. This is the first of a planned international network of Ecobat facilities with the capability to test, diagnose, re-engineer, and repurpose electric vehicle batteries and modules. Recovered raw materials include aluminum, copper, steel, plastics, battery management systems, lower value electronic components, and packaging materials.
Located in Darlaston, West Midlands, our state-of-the-art facility is one of the most advanced of its kind. By working with our customers in a comprehensive and collaborative partnership, the technical quality of the service combined with our advanced, unique approach ensures our mutual integrity. All work is fully accredited for both quality and environmental attributes. 
To help minimize our impact on the environment and protect the health of our operators, our plant is subject to strict regulations and is required to operate according to specific environmental conditions. To confirm compliance with these requirements, our facility is audited by a third party and enforcement organizations. Our investment strategy helps to ensure that our operations comply, and, in many cases, exceed compliance with environmental permits not only for today, but which also extend well into the future.
Full traceability, advanced testing.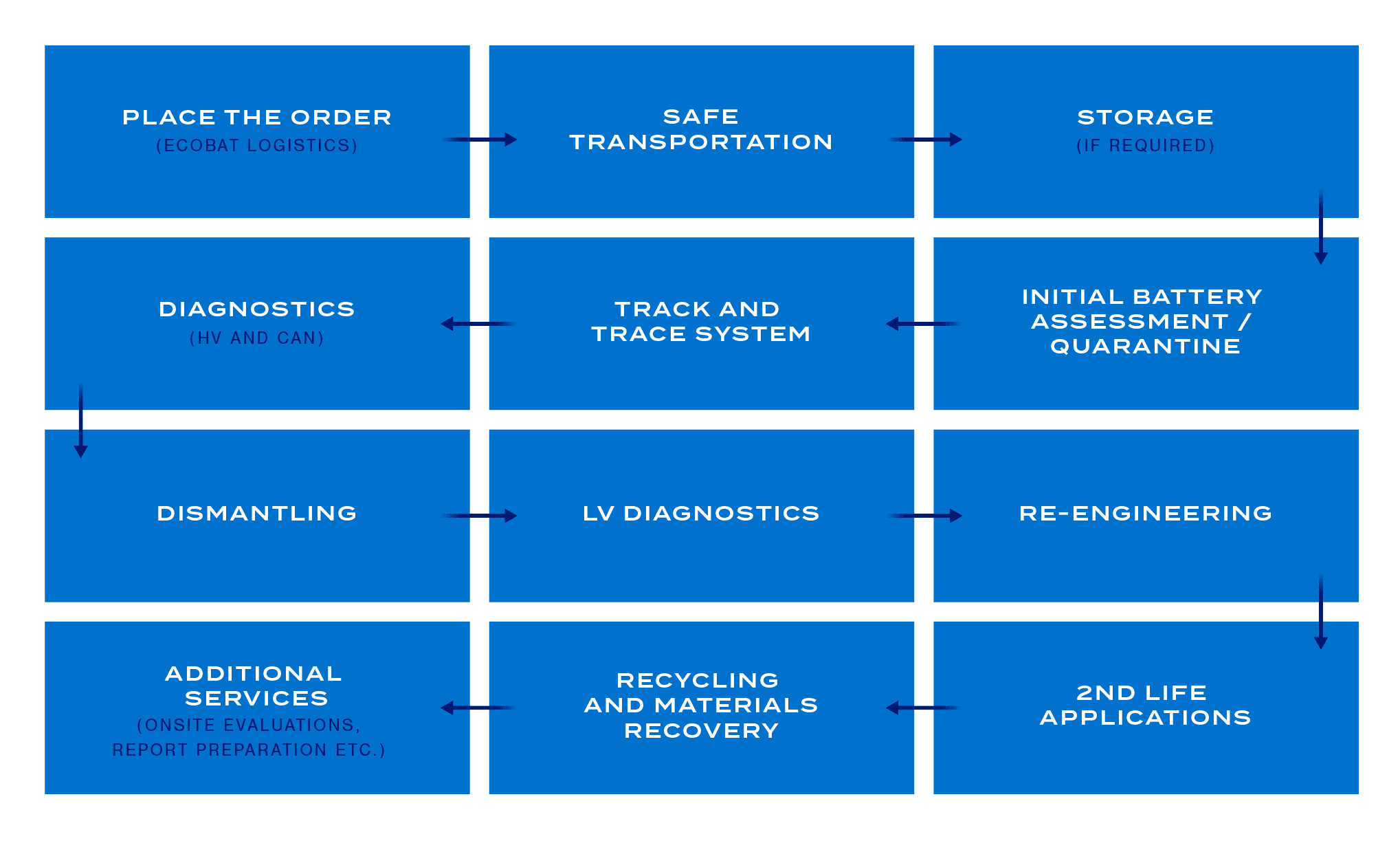 With a global reputation as an industry leader and driver who strives for both process and environmental excellence, our goal is to add value to our customers and further enhance our international reputation for service, quality, and compliance. We have invested significantly in our new Electric Vehicle Lithium-ion battery processing facility and can ensure full component traceability from when the EV battery enters the Ecobat process through re-engineering, alternate second life application, or end of life recycling. Every test, action, and result are recorded. In addition, staff are trained both operationally and from a health and safety perspective at the highest level.
Investment in state-of-the-art high- and low-voltage equipment enables EV battery, module, and cell testing and diagnostics to be conducted to the most exacting industry standards, including LV123 as used by Audi, Mercedes Benz and BMW. Additional OEM specific test requirements can also be accommodated, and a sophisticated grading system has been developed to evaluate performance and future application suitability for EV batteries and modules. Performance certification of EV batteries and modules is provided as required upon test completion.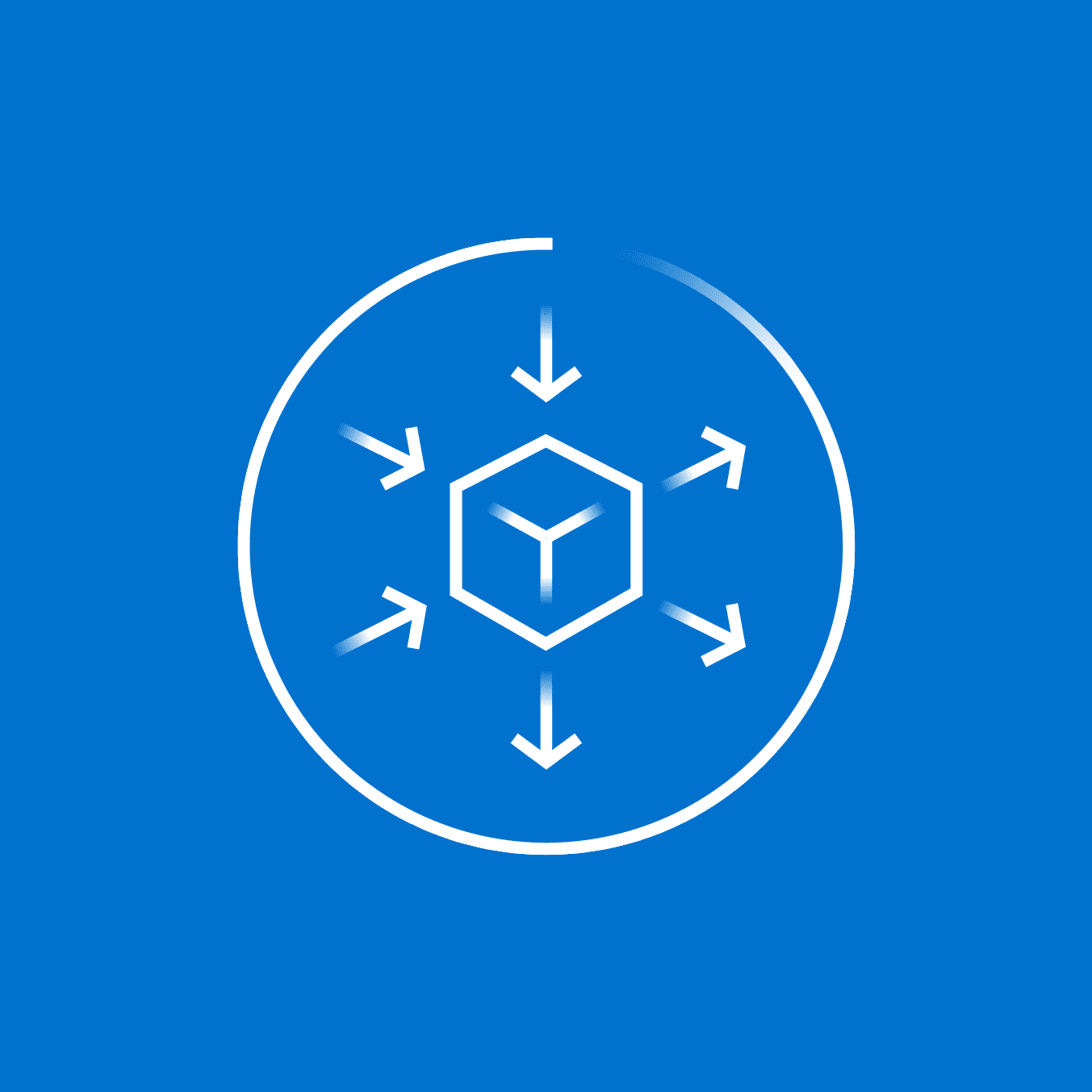 Stage 1: Collection
Any battery, anywhere.
Using the regional infrastructure of Ecobat Logistics' collection services, we can conveniently coordinate the safe and compliant collection of any kind of battery—including Electric Vehicle Li-ion and Nickel Metal Hydride batteries—with our customers. This includes end-of-life, potentially dangerous, damaged batteries meeting ADR SV376 and SV377 regulations and covering prototypes such as M228 and SV376.
With today's technology demanding high energy batteries, there has been a rapid increase in end of life lithium-ion batteries to be collected and recycled safely. Because of their high energy density and the potential to spontaneously combust, these batteries are classified as dangerous goods under the ADR regulations (Accord Dangereux Routier, the European regulations concerning the international transport of dangerous goods by road). As a result, they need expert handling when being stored or transported, as well as fully compliant routes for processing and safe recycling.
Our services are delivered using all required safety equipment including specialized and fully approved critical transport containers to ensure a safe, legally compliant, and cost-effective integrated solution for the collection and disposal of high-energy batteries. Ecobat services currently include:
Advice and support from fully qualified and experienced personnel with best-in-class knowledge of the potential issues surrounding high-energy batteries
On-site evaluation of battery conditions and recommendations for further ensuring safe storage or recycling, if required
Specialized, approved containers for End of Life, Damaged and Defective or Critical Lithium-ion battery transport or battery storage
Batteries for collection inspected on site by qualified Ecobat personnel prior to removal
Collection and transportation using ADR compliant specialized vehicles
Provision of all legally required evidence, documentation, and statistics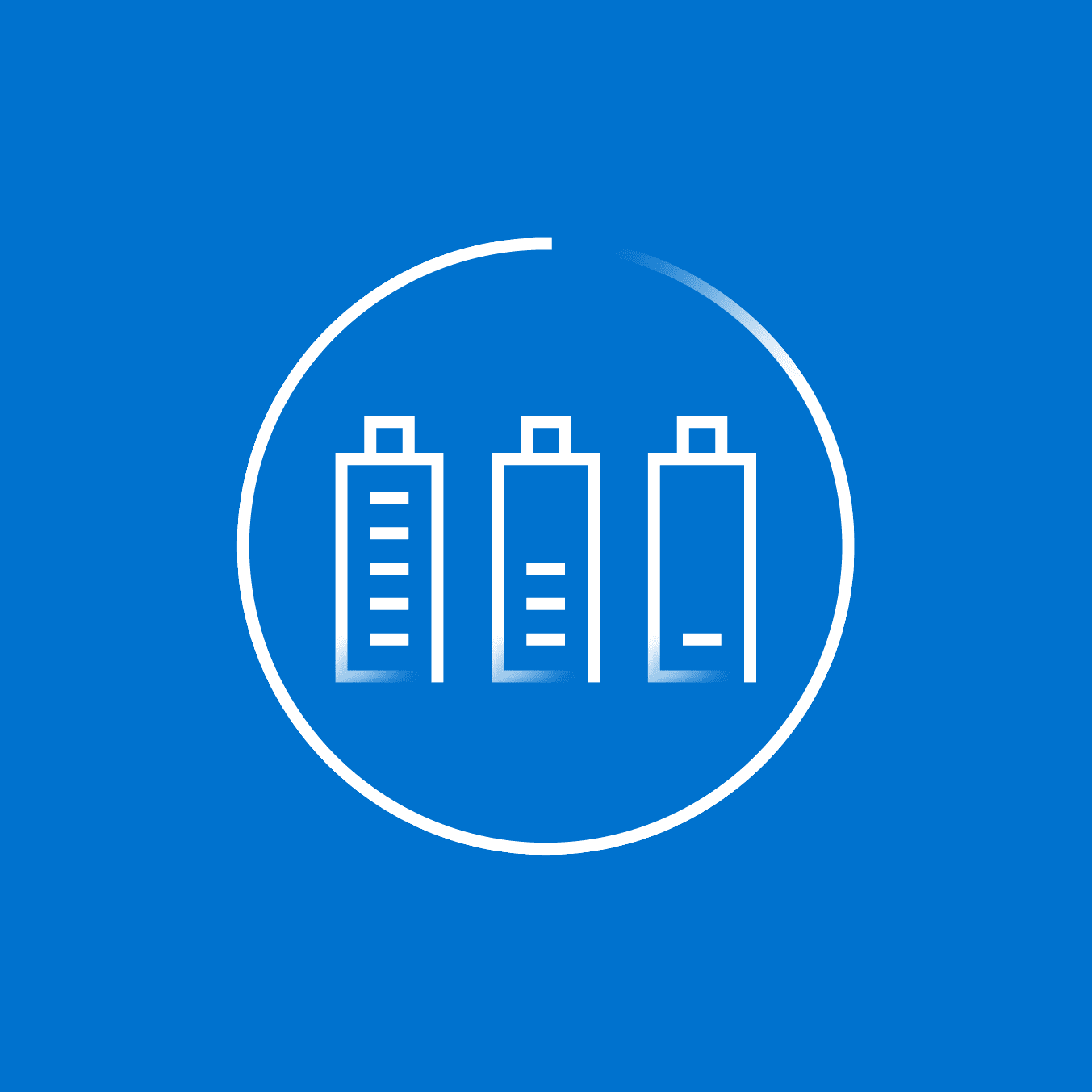 Stage 2: Discharge
Evaluate, assess, assign a unique ID.
Once batteries are received, whether repurposed or recycled, they are assigned a unique ID. All stages of the process will be recorded against the battery's ID to ensure full and complete traceability.
Following the collection and safe transportation of Lithium-ion EV batteries, the batteries are received at the Diagnostic and Disassembly Center and stored in an evaluation and pre-qualification area. Once ready for processing, the initial assessments are carried out and the batteries are assigned a unique ID. 
Initial assessments include:
Visual checks for physical damage 
Safety tests including earth leakage and thermal imaging 
The battery is connected to CAN (Controlled Area Network). This enables communication with the battery (as if on the vehicle), enabling the battery to be investigated thoroughly.
Specialized high voltage test cycle protocols on the full Li-ion battery pack using advanced test equipment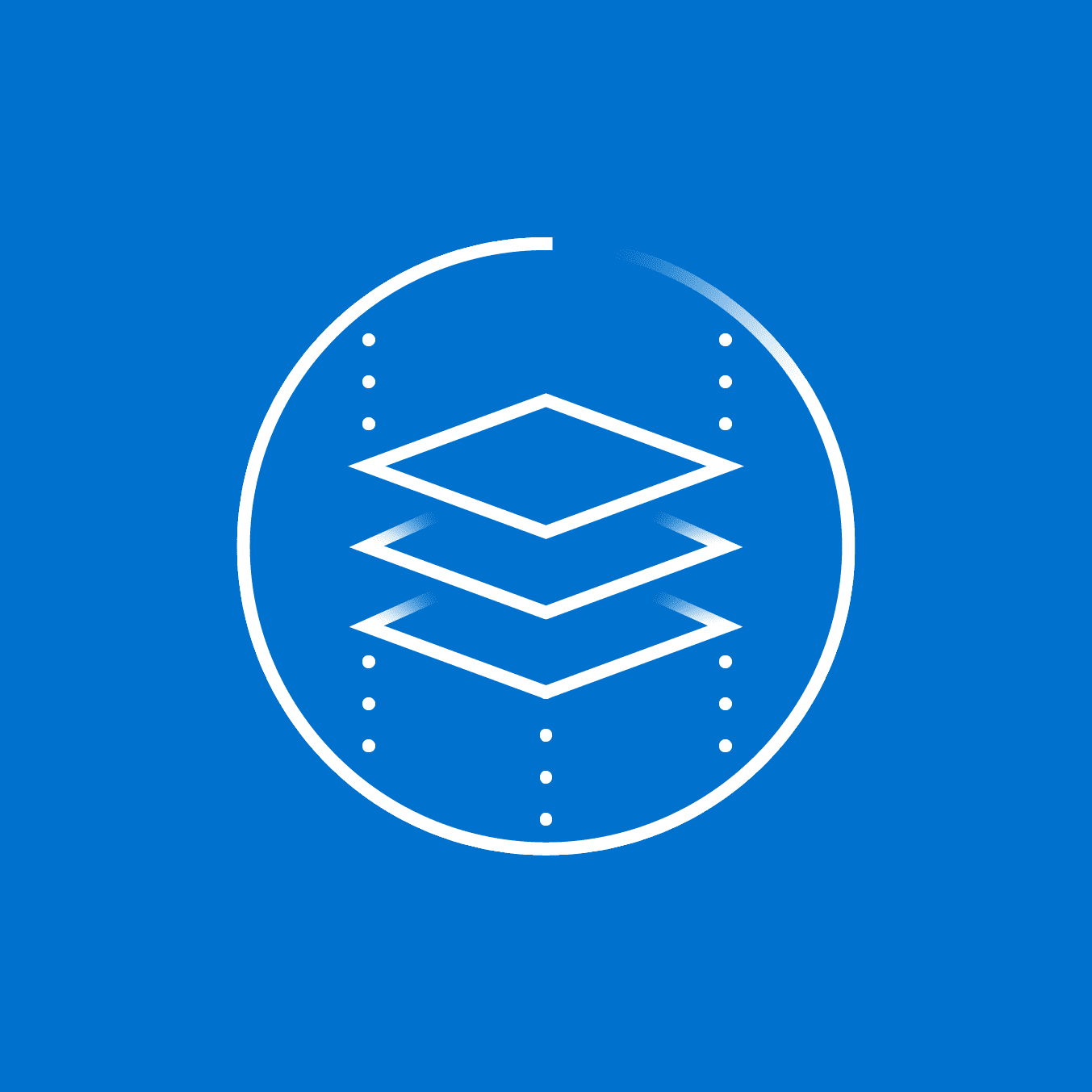 Stage 2: Dismantling
Disassembly for every type of battery.
Electric Vehicle batteries have different construction and disassembly requirements, which are often complex and require special tooling. In some cases, detailed information is required from the manufacturer. A safe pre-evaluation and disassembly process is established and documented for every type of battery that enters the Ecobat system.
Typically, initial manual disassembly will take three to five hours, and repeat manual disassembly will be reduced to between 60 and 90 minutes depending on the battery type. Future automation of these processes is currently being evaluated to increase efficiency and further minimize operational risk exposure.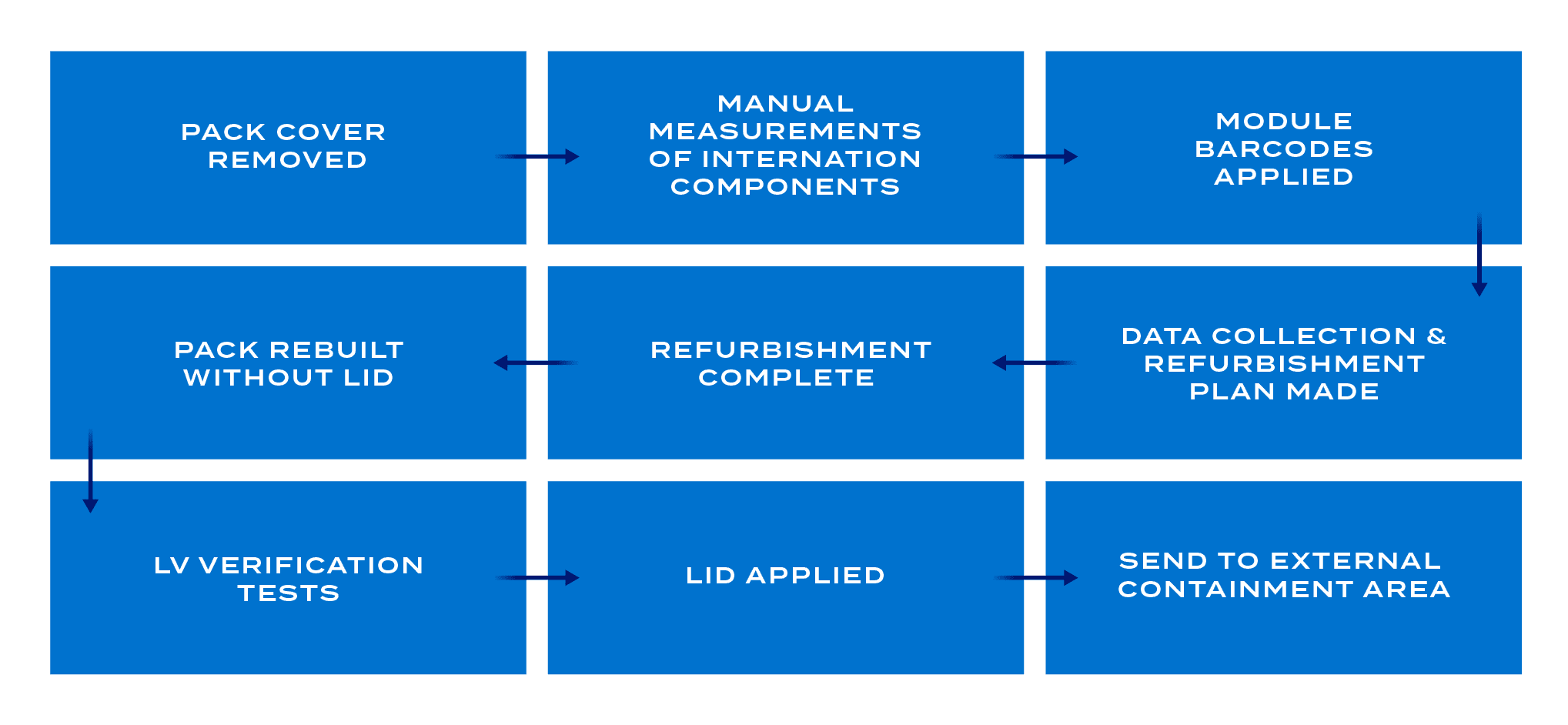 Testing and retesting.
Once the battery has been thoroughly assessed in the external containment area and has been deemed safe, it is transported into the processing facility area for further testing. Inside the processing facility area, specialists conduct the following procedure:
The battery pack cover is removed and manual measurements are carried out 
The module bar codes are applied to ensure traceability 
The data is collected and assessed and a refurbishment is completed 
The pack is then rebuilt and LV123 verification testing occurs 
Bespoke OEM specific testing can also be actioned if required 
Performance testing and verification is then carried out 
All unusable raw materials are recovered and recycled wherever possible 
Once reconditioned, the battery pack is returned back to the external containment area for retesting and certification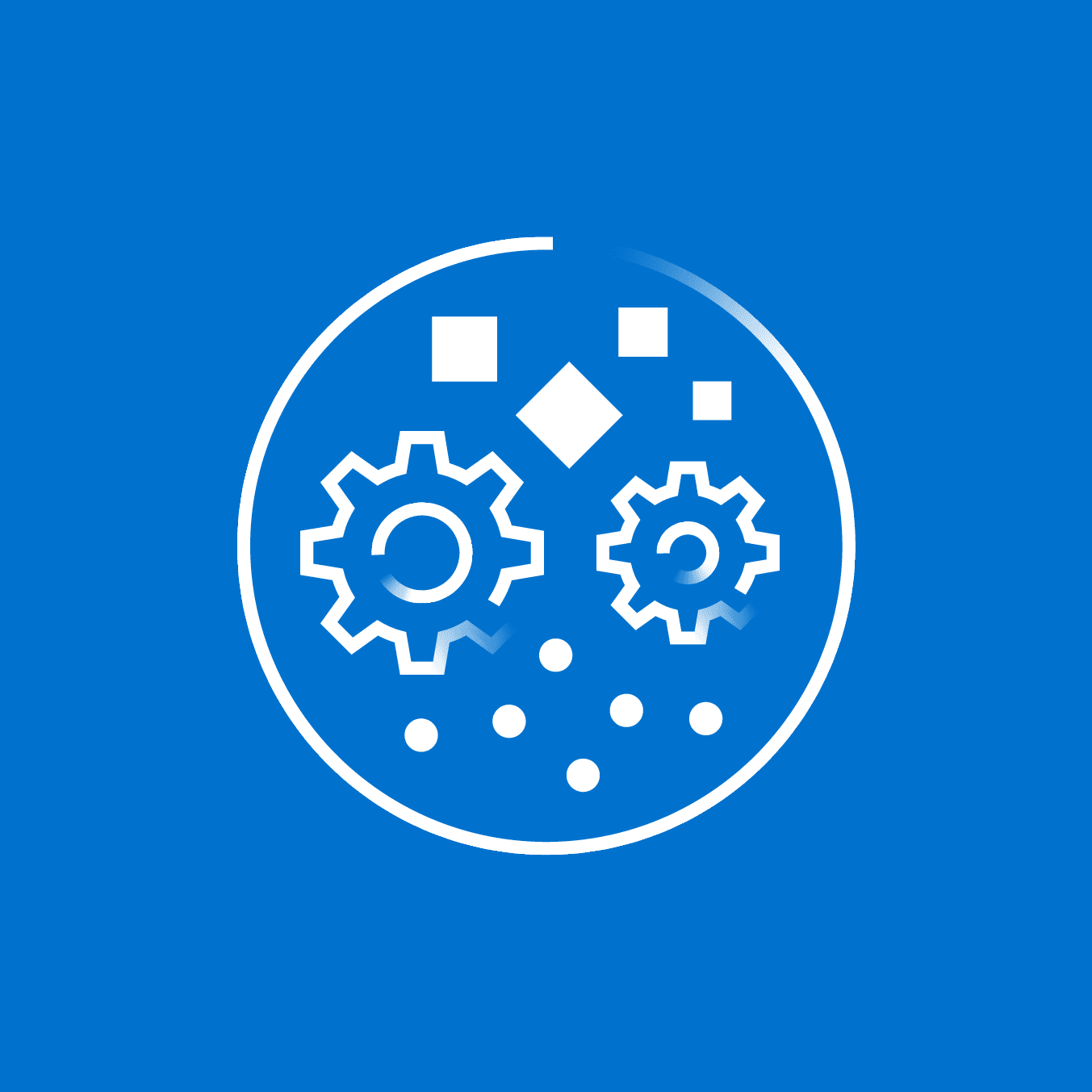 Stage 3: Crushing and Sorting
Setting the standard.
Ecobat Solution's acquisition of Promesa in Germany (now known as Ecobat Solutions Germany) adds Stage 3 capabilities and enables recycling efficiency of critical materials in lithium batteries, setting the standard for safe and efficient lithium battery recycling.
Currently, a mechanical closed process within a fire-protection atmosphere is in place to guarantee low-emissions. This energy-efficient and economical treatment allows the crushing and proper sorting of parts and chemistries so that the major part of the battery can be recycled, regardless of design and chemistry.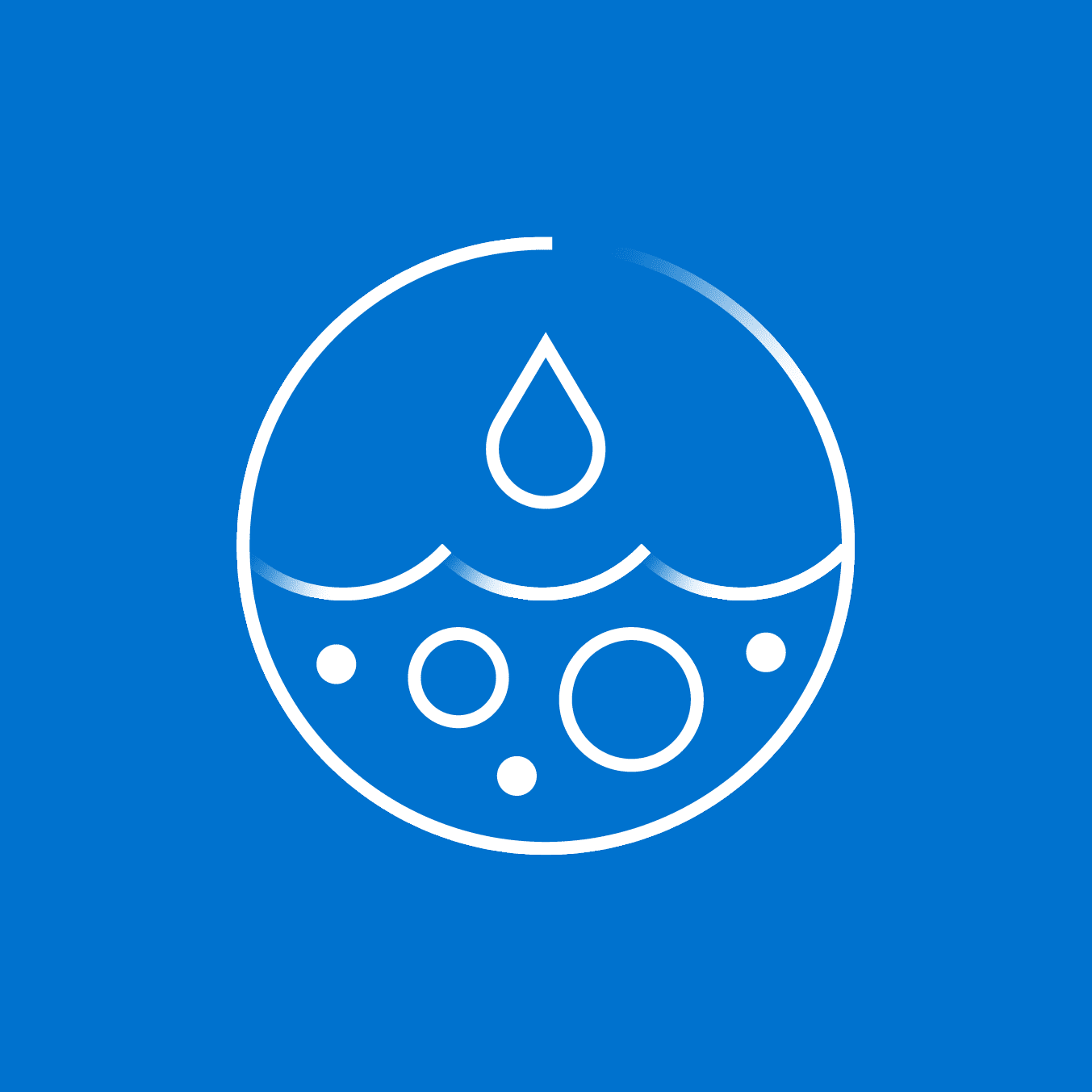 Stage 4: Hydromet
Facilitating urban mining.
When Stage 3 is complete, Ecobat Solutions contracts with trusted partners to handle the black mass that is generated. Through urban mining, the active materials, like nickel, cobalt, lead, and manganese, are extracted from the black mass and reused to build new lithium batteries. Ecobat Solutions is the only provider of fully integrated Stage 1-3 lithium battery recycling services and management services for Stage 4. 
Connect with us.
Do you have questions or comments about our lithium services? Connect with one of our representatives.