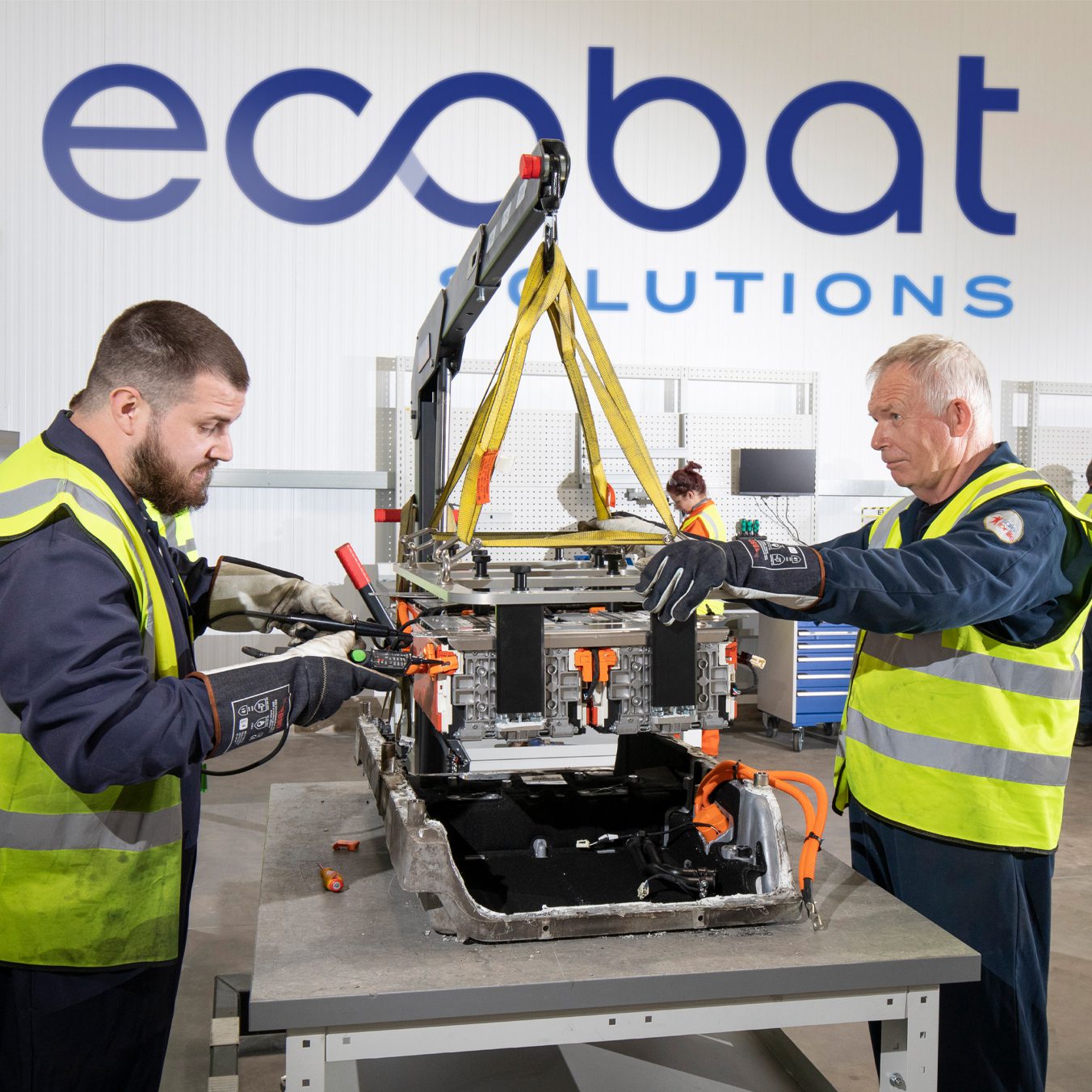 New EV Recycling Partnership Between CarTakeBack and Ecobat
Ecobat | December 2, 2022
CarTakeBack, the largest scrap car recycling network in the UK, and Ecobat Solutions, pioneers in the world of EV battery recycling, have announced an official partnership to collaborate in serving the ever-growing need for sustainable recycling of electric vehicles.

Ecobat Solutions opened its UK EV Diagnosis and Disassembly Centre in Darlaston, West Midlands, in January 2021. Since then, it has processed over 3000 EV batteries, using manufacturer-standard diagnostic equipment to grade units and either re-engineering or recycling them. CarTakeBack ensures vehicles are safely and effectively scrapped, with no more than 5% of the entire vehicle going to landfill. Fully trained and competent dismantlers ensure that the components are removed and given a second life where possible, and the batteries themselves are safely removed and packaged up for their onward journey to Ecobat Solutions.

"Ecobat is the world's biggest recycler of batteries, and the world's largest producer of lead from the 99% recycling rate of traditional batteries. We aim to bring the same sustainability and circularity to support EV adoption, and offer a full service from collection, through repurposing into final recycling," said Tom Seward, EU Key Accounts Director at Ecobat Solutions.

Where the vehicle needs to be scrapped, CarTakeBack will ensure it happens in line with the End-of-Life Vehicle regulations and it is fully depolluted with 95% of the vehicle by weight reused, recycled or recovered. Where the car is an electric or hybrid vehicle, Ecobat Solutions takes on the battery pack and transports it safely for analysis. If the pack is found to be capable of further operation, it may be re-engineered for use in a second-life application like a home energy storage system, according to the wishes of the original manufacturer. If it is truly at the end of its life, then it can be sent to first-stage recycling, and the precious metals can be moved back into the supply chain for new battery manufacturing.

Electric vehicles (EVs) have become more and more popular in recent years, with unpredictable fuel prices and changes in work practices hastening the current rate of adoption – with one in five new car registrations now being fully electric, and around half having some form of battery assistance. Consumers, however, remain concerned about the resources and scarce metals required to produce a new battery, and worries about sustainability of this new technology could slow the rate of adoption. Whilst generally the issue of recovering and re-using the precious resources used in the manufacture of electric vehicles has not yet been tackled in earnest by the end-of-life industry, based on their extensive experience in already handling these, CarTakeBack and Ecobat Solutions have been planning for the electric future together for years.

About Ecobat

Ecobat is the world's largest recycler of batteries. In 2021, Ecobat's lead battery recycling business fully recycled 70 million car batteries. We have a vast network that powers industries worldwide.

Our facility in Darlaston, UK is in constant development and will carry out stage one recycling up to 500 MT in 2022. By the end of 2023, capacity will exceed 10,000 MT per year, and by 2024, capacity will hit 20,000 MT per year.

Our European plants in Hettstedt, Germany, and Bazoches, France are also developing their facilities for stage one recycling. In Germany, this will hit 20,000 MT/year in 2023, and the plants will have a combined capacity of more than 30,000 MT/year by 2024.