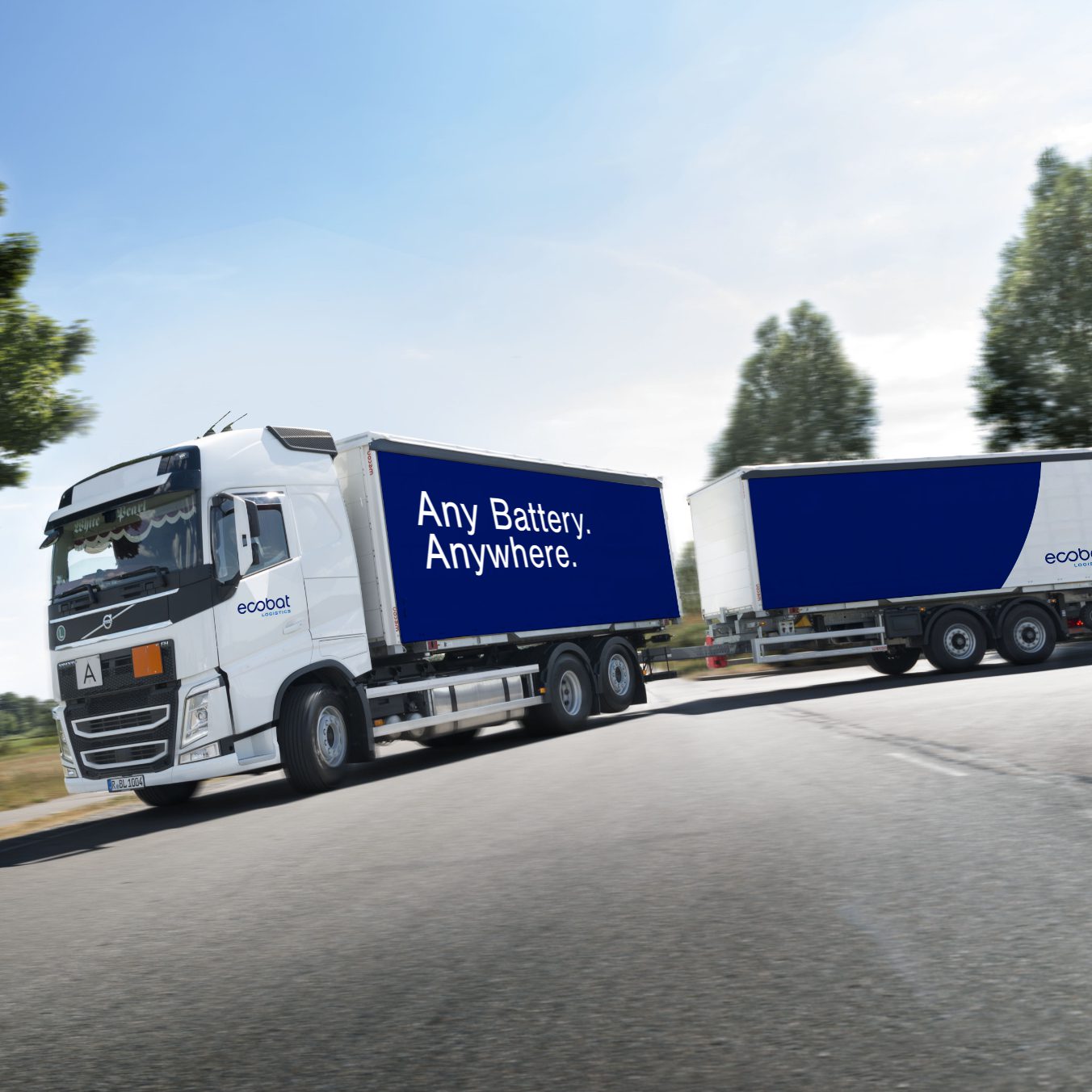 Collection
Collecting and closing the loop.
Ecobat Logistics operates highly efficient battery collection systems, all of which are certified recycling operations and legally compliant with the respective national requirements in their countries of operation. In addition, our waste management facilities are subject to the guidelines of quality management according to ISO 9001 and have been approved according to the Federal Emission Control Act.
We are specialists in the recovery and reutilization of batteries from businesses of any size. Our timely collection service ensures used batteries and full bins are removed and emptied when required, and our customized logistics solutions guarantee efficient recovery and environmentally-friendly recycling of any battery, anywhere.
Benefits of our services include:
Convenient pickup: Schedule the pickup of your spent batteries according to your preferences.
Legal compliance: You're sure to comply with the legal framework for recycling spent batteries.
Stress-free: We store, transport, and recycle your spent batteries safely and at low cost.
Sustainability: Rare and valuable raw materials are recycled efficiently and in an environmentally friendly way.
Growth: Find new customers for your business through our extensive database.
Best service: We're here to help with any questions and personalized service.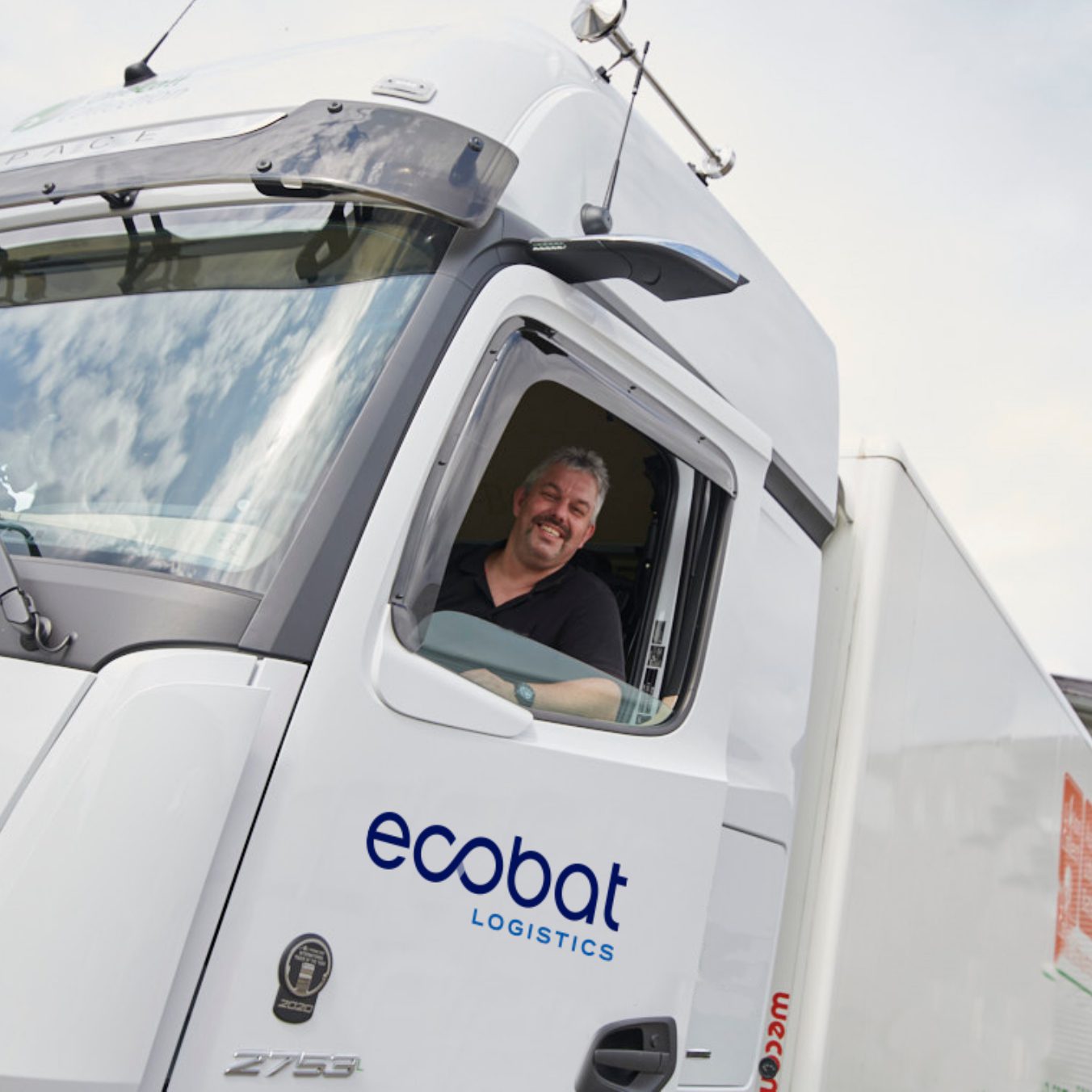 Health, safety, and environment.
Safety is at the core of our business, and it is reflected in every aspect of our daily operations. We are committed to the safety of the employees, collection sites, trucks, and everyone involved in our used battery collection and recycling process. We continually improve our safety policies and best practices to ensure we protect both people and the environment.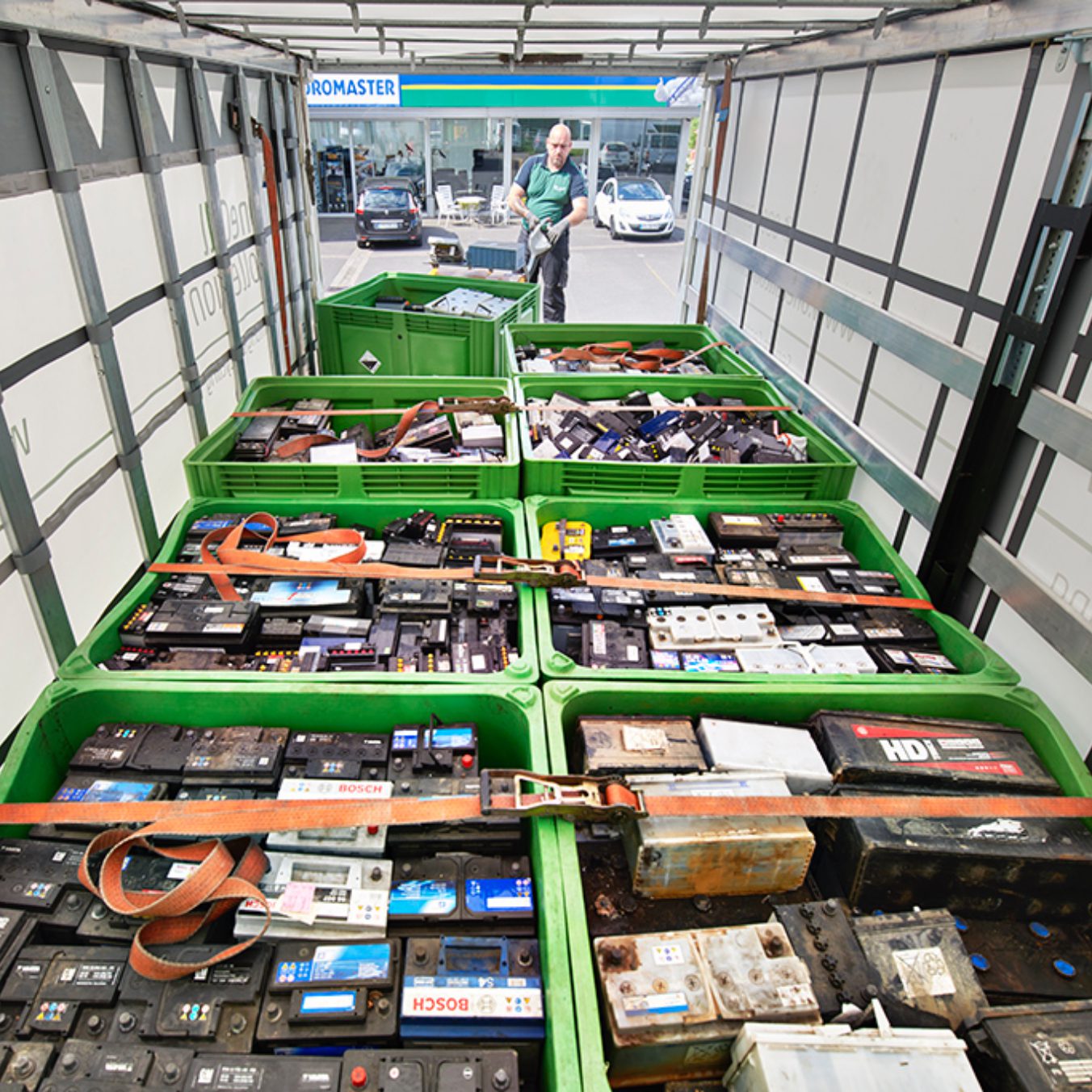 Applications we service.
Here are just a few of the major battery categories for which we provide collection, dismantling and recycling:
Automotive: Any battery used to start or ignite the engine of a vehicle, or for providing power and lighting used by such a vehicle. Applications include car and battery manufacturers, encompassing lithium-ion batteries used by electric vehicles.
Industrial: Any battery or battery pack which is designed for industrial or professional use; used as a source of power for propulsion of an electric vehicle; unsealed, but is not an automotive battery; sealed, but is not a portable battery. Applications include industrial trucks, industrial equipment like forklifts, and municipal waste disposal.
Portable: Any battery or battery pack which is sealed and is neither an automotive nor industrial battery with a maximum weight of 4 kgs. Applications include wristwatches, key fobs, and small household devices.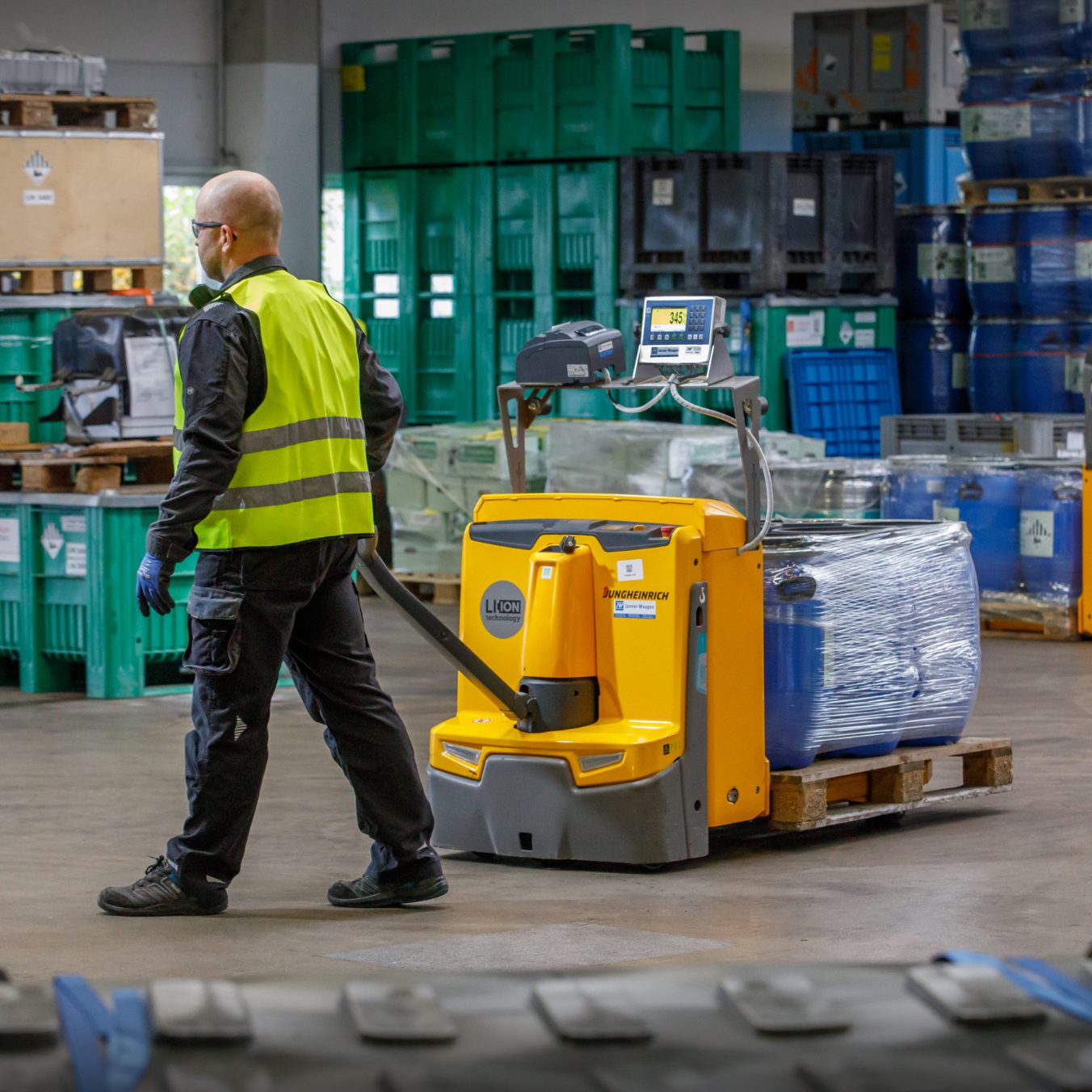 Full-service collection.
Our comprehensive collection service closes the loop. We are your environmentally and socially responsible partner for disposing hazardous materials. Here's an overview of our process:
Collection, transport and storage: We provide special storage containers, collect your batteries at an agreed upon frequency, and transport them to certified sorting and disposal facilities operated by ourselves or our trusted partners.
Recycling process and energy recovery: We professionally dismantle your used batteries in compliance with the highest safety and environmental standards to protect the planet as well as our employees.
Resource production: We process raw materials and turn them into lead, lead alloys, polypropylene, sulfuric acid and sodium sulfate.
Returning to the production cycle: We deliver the resources back to the lead battery industry, chemicals industry, electrical industry, and automotive industry, making an important contribution to the ecological and socially responsible recycling of critical substances.
Collection, dismantling and recycling any battery.
We are the only global company offering a closed loop for lead batteries. About 96% of the battery can be recovered, contributing to the responsible reuse of resources.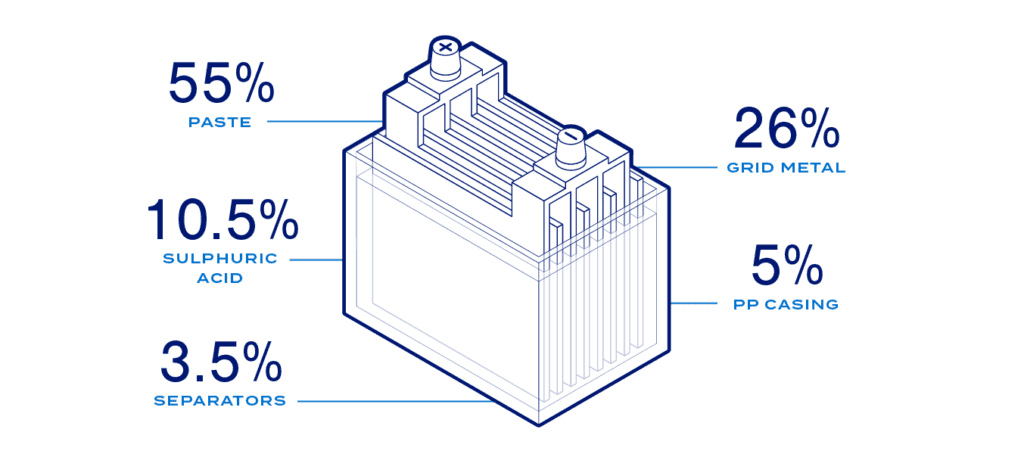 Benefits include:
Just-in-time and cost-effective collection
Specialized collection bins
Legally required documentation
Prompt payment dependent on pick-up weight
We offer safe and compliant collection, storage, dismantling and recycling for any kind of lithium-ion and lithium-metal batteries. This includes end-of-life, potentially dangerous, damaged batteries meeting ADR SV376 and SV377 regulations and covering prototypes such as M228 and SV376.
Safe handling
With today's technology demanding high-energy batteries, there has been a rapid increase in end of life lithium-ion batteries to be collected and recycled safely. Because of their density and the potential to spontaneously combust, these batteries are classified as dangerous goods. As a re sult, they need expert handling when being stored or transported and fully compliant routes for recycling.
To meet the demand for safe recycling routes for lithium-ion batteries, we use special safety equipment to provide an integrated, legally compliant, and cost-effective solution for the collection and disposal of high-energy batteries.
Benefits include:
Advice and support from trained experts with best-in-class knowledge of the potential issues surrounding high energy batteries
On-site evaluation of battery storage conditions and recommendations for optimum safe storage, if required
Specialized containers approved for lithium battery storage
Batteries for collection inspected on site by qualified personnel prior to removal
Collection, transportation, and recycling using compliant, specialized vehicles
All legally required documentation
Lithium bin rental
Bin Type
ADR packaging regulations
Size
Weight

LC Box 1

P903, P908, P909, P910

60 x 40 x 29 cm

26 - 30 kgs

LC Box 2

P903, P908, P909, P910

60 x 40 x 40 cm

23 - 27 kgs

LC Pal 1

P903, P908, P909, P910

123 x 101 x 84 cm

290 kgs

CT Box 1

P903, P908, P909, P910, P911 – specification

60 x 40 x 40 cm

30 kgs

CT Box 2

P903, P908, P909, P910, P911 – specification

47 x 28 x 70 cm

80 kgs (incl. filling material)

CT Pal 1

P903, P908, P909, P910, P911, LP906

Approved for critical batteries under the manufacturer's approval. Individual case arrangements necessary.

200 x 100 x 50 cm

400 kgs (without filling material)

CT Pal 2

P903, P908, P909, P910, P911, LP906

Approved for critical batteries with the approval of the UK authorities

110 x 70 x 40 cm

14 kWh
Containers and quantities
For damaged and defective batteries:
Single containers (available in multiple sizes) for packaging and transportation of defective and potentially dangerous lithium-ion batteries.
Tailor-made containers.
Box-in-Box system: 4 or 2 smaller boxes for packaging and storage of defective and used batteries up to 30 kgs for subsequent transport in larger transport box.
For end-of-life batteries:
Provision of a wide range of container types to meet individual 
storage requirements.
OCC prioritises safety. All storage options use technology 
to reduce fire risk.
Both types of containers allow the easy and safe packaging, storage, and transportation of lithium-ion batteries to full compliance.
Lithium safety system
Due to their volatile nature, all damaged and critical lithium-ion and lithium-metal batteries are always placed put in safe storage and transported according to dangerous goods regulations. We uses an approved special security system to achieve the highest safety levels when storing and transporting lithium batteries.
We provide comprehensive service to cover the requirements of all portable batteries, encompassing dry-cell consumer batteries each weighing less than 4 kgs, which include: alkaline, lithium, nickel cadmium, nickel metal hydride, nickel zinc, and small-sealed lead acid.
Compliance
We can deliver the necessary services and recycling documentation for producers of portable batteries. We assist with:
Reporting to authorities
Achieving collection rate according to the law
Achieving recycling efficiency of 45% (for 2020) and 50% (from 2021)
Proof of collection and recycling
Consulting
Collection Service
Portable services
With industry-specific, approved storage solutions for each battery type, we offer peace of mind that batteries are being stored and transported correctly. We can advise you on the most appropriate storage solutions, whether batteries are being stored indoors or out doors.
We collect, consolidate, sort, and recycle with a secure service for all waste batteries and accu mulators.
We offer free, secure containers for the safe on-site storage of batteries (except critical lithium batteries) in a wide range of capacities. These are suitable for use by retailers, garages, factories, and offices. 
We can pick up full containers and replace them with empty ones on your schedule.
We ensure the safe and legally compliant transport of your used batteries, ensuring they are correctly identified and sorted with the optimum recycling solution.
We administer the process with a fully transparent service which can be monitored at any time.
Benefits include:
All services delivered by a single supplier
Compliant and high-quality service enabling you to concentrate on your core business
Individually-tailored solutions available
Cost-effective
Low administration
A useful value-added service for your customers
Collection services
Whatever the battery type, and whether it is contained within WEEE products or is scrap lead or polypropylene, we can help. Our services include careful analyses, safe transportation, and recycling with state-of-the-art technology.
Industrial Batteries: Industrial batteries encompass a wide range of chemistries, shapes and sizes. We can handle the collection and dismantling of any battery which is designed exclusively for industrial use.
Lead Scrap: We collect and recycle materials used In the building and construction industry, such as lead-containing materials for roofing or water pipes, as well as lead from radiation shielding or other applications.
Polypropylene: We collect and recycle battery cases, bumpers, bottle caps, and other Polypropylene-containing materials.
Verified qualities and services: We are certified according to these current standards.